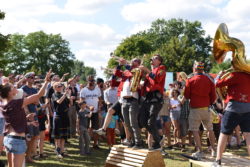 The entire creative and cultural industry is struggling to survive – and so are we!
We need your help and support more than ever before. Please help us so that we can organize a fantastic and unique Sacred Ground Festival next year. If you already have a ticket for this year's Sacred Ground Festival, we would be super grateful if you would donate your ticket or keep your ticket for next year. If you'll keep it for next year you'll automatically have access to Sacred Ground 2021 which
means you can celebrate, dance and enjoy a fantastic Sacred Ground with us. The more you help us, the more possibilities we have to create an immersive amazing world for you.
We would also like to take this opportunity to thank all those who have already informed us that they are keeping their ticket. You are really incredible!
We are happy about every support and thank you from the bottom of our hearts.
We also have summarized the most important answers and questions here:
http://zart-agency.com/covid-19-faq-sacred-ground-festival/
Keep smiling and take care of yourself.
Picture ©
Alexander Jedermann